Hero Tactics
A downloadable game for Windows and macOS
A love letter to oldschool tactics rpgs.
Lead your motley party of heroes through a series of micro tactics battles. Each enemy encounter plays out like a puzzle. But if you can solve it, you'll recruit more heroes, learn new skills, and vanquish evil!
Follow me at @ehgoodenough for frequent updates!!
Your Heroes!!
Tod the Warrior
Phil the Archer
Simon the Cleric


5 health
3 health
2 health
Deals 2 damage

Deals 1 damage
from 2 tiles away
Heals 1 damage.
Moves 2 tiles
Moves 2 tiles
Moves 2 tiles
How to Play!!
Select a unit by clicking on them. Deselect a unit by clicking on them again.
After selecting a unit, click on a tile to move them to that tile, or click on an enemy unit to have them attack that unit!
Each unit can move and attack once per turn.
When a unit has no health, they must retreat from the battle.
Route all the enemies to win the stage!
Follow us for more Games!!
Andrew McPherson ➜ @ehgoodenough
Vinícius Menézio ➜ @vmenezio
Leopold Langer ➜ @pinselschubser
Landon Ashby ➜ @lpashbymusic
Thanks for Playing!!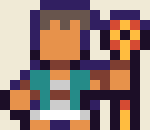 Comments
Log in with itch.io to leave a comment.
This feels like something that would be amazing on phones.